Fabric
100% Combed or Carded Cotton Greige Fabric

Designed purely for the need for natural comfort and smooth feeling. By using our own high quality 100% Combed Cotton yarn, our fabric has reached perfection.
100% Spun Polyester Greige Fabric

Developed to fulfill the need of stability. Our 100% polyester fabric is strong with high resistant to crease.
100% Spun Rayon Greige Fabric

Created to ensure its unique brightness and lustrous color after dyeing. This soft and comfortable fabric can be used in variety of applications including apparel, home furnishing, medical and industrial, and many more.
Polyester Cotton Blended Fabric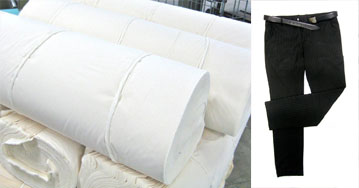 Not only we can offer fabric width of 40 to 71 inches. With wide range of blends we can offer, we have create a work of art.